Search term(s)
Contribution Number
---
Search Results
7 record(s) found.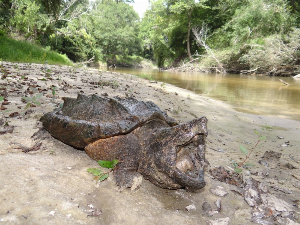 Authors: B M Glorioso; C D Battaglia; J Streeter; J Hardin Waddle
Date: 2020-05-01
This dataset contains initial data from head-started alligator snapping turtles released by Louisiana Department of Wildlife and Fisheries (LDWF) from November 2015 to October 2016. In addition, it contains data from a five-day trapping effort at each of seven release sites by the United States Geological Survey (USGS) from late June to early October 2018. Trapping was completed using hoop nets of three sizes. We recaptured eight head-started alligator snapping turtles as well as four individuals native to the creek.
Authors: K L Smalling; Blake R Hossack; R K Honeycutt; Chauncey W Anderson; I M Cozzarelli,
Date: 2018
Data release for data collected from Prairie Pothole wetlands.
Authors: J E Hink,; Blake R Hossack; R K Honeycutt
Date: 2017
Data release for acoustic monitoring of amphibians at 3 mine sites.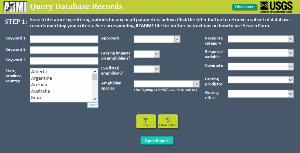 Authors: J C Rowe; C A Pearl; M J Adams; B McCreary
Date: 2020-03-04 | Outlet: Science Base
Livestock grazing is one of the most common land uses in the western United States, where multiple amphibians of conservation concern use habitats that are grazed. Despite the common intersection of grazing and sensitive amphibian species, there are very few reviews of research related to the issue. USGS researchers compiled and summarized literature pertaining to livestock grazing effects on amphibians and their habitats, with an emphasis on wetland-breeding species in the western United States. Users of the annotated bibliography can utilize an integrated search tool with user-defined criteria to query records and output results. This tool aids users in synthesizing research related to a range of specific questions and should assist land managers in evaluating and implementing grazing while maintaining habitat for wetland amphibians.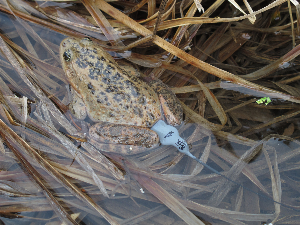 Authors: C A Pearl; J C Rowe; B McCreary; M J Adams
Date: 2019-12-13 | Outlet: Science Base
We used radio-telemetry to study late-season movement and habitat use by Oregon spotted frogs (Rana pretiosa) at Klamath Marsh National Wildlife Refuge in Oregon. This data release includes frog location and habitat use data, as well as visualizations of telemetry data. Tracking events occurred roughly weekly between August and December of 2017.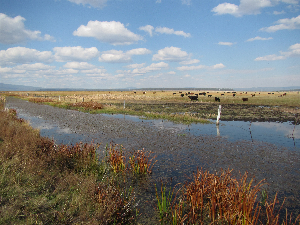 Authors: J C Rowe; K L Smalling; C A Pearl; C E Givens; A J Sperry; M J Adams
Date: 2019-12-13 | Outlet: Science Base
The data was gathered to determine the effects of cattle grazing on wetland water quality in the Klamath National Wildlife Refuge in Oregon. Surface water samples from sites representing a range of grazing histories were collected between June and October in 2017 and 2018. Samples were analyzed for nutrients (ammonia, nitrate plus nitrite, nitrite and orthophosphate), total coliforms, E. coli, enterococci and estrogenicity by US Geological Survey laboratories. Basic water quality parameters such as temperature, pH, turbidity and specific conductance were also collected in the field during each site visit. Quality assurance samples (blanks and replicates) as well as method information is also included in the data release.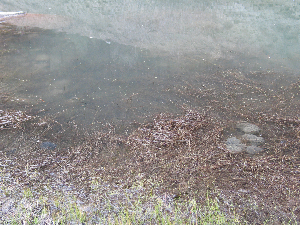 Authors: M J Adams; C A Pearl; B McCreary; S Galvan; J C Rowe
Date: 2018-02-01 | Outlet: ScienceBase
We studied the short-term effects of full and partial livestock grazing exclosures on Columbia Spotted Frog (CSF; Rana luteiventris) populations using a controlled manipulative field experiment with pre- and post-treatment data. This dataset includes vegetation data collected 2002-2010 and 2013 at 94 lakes and ponds in and around the Blue Mountains in eastern Oregon. Data collection followed standardized survey protocols and included annual oviposition surveys and vegetation surveys. These data allowed for quantification of CSF breeding as related to vegetation within and outside of grazing exclosures at each site.
---