Species and their Ecology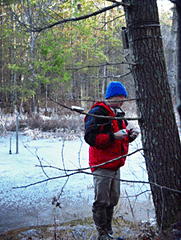 M. Roth (ARMI) installing an acoustic recorder and water-level and water-temperature loggers at an amphibian breeding site in the St. Croix National Scenic Riverway in WI. Photo by: P. Boma.
»
Order
: Anura (formerly Salientia): Frogs and toads
»
Order
: Caudata (formerly Urodela): Salamanders
»
Order
: Gymnophiona: Caecelians
The U.S. is home to approximately 287 of the world's estimated 6,000 amphibian species. The number of known species changes periodically as new species are discovered and new genetic techniques (e.g. molecular genetics) allow scientists to distinguish among cryptic species.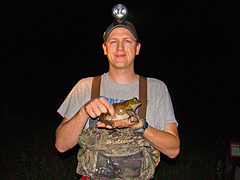 B. Glorioso (ARMI) with American bullfrog in Atchafalaya Basin, LA conducting amphibian surveys. Photo by: L. Elston.
Amphibian Taxonomy
» Scientific and standard names of amphibians and reptiles of North America north of Mexico, with comments regarding confidence in our understanding. (Crother, B.I. (chair). 2008. Publisher: Society for the Study of Amphibians and Reptiles)
» Amphibian species of the world 5.4, an online reference. (Frost, D. 2010. Publisher: American Museum of Natural History)
» Standard common and current scientific names for North American amphibians, turtles, reptiles and crocodillians. (Collins, J.T., and T.W. Taggart. 2009. Publisher: Center for North American Herpetology)
ARMI conducts research on the natural history of species; writing reports and describing the ecology of America's amphibians. ARMI also collaborates with federal and state partners to design, implement, and evaluate management actions that benefit T&E and other imperiled amphibian species.
Federal and State Partners: Information about the status, management, and conservation of amphibians is found throughout the ARMI web site [e.g. Products Database and Topics Sections]. Please consult the "National Amphibian Atlas" to identify the approximate range of the species of interest.
Resources
ARMI Products on Species and their Ecology
* USGS neither sponsors nor endorses non-USGS web sites; per requirement "3.4.1 Prohibition of Commercial Endorsement."
* PDF documents require Adobe Reader or Google Chrome Browser for viewing.

Quantifying Climate Sensitivity and Climate Driven Change in North American Amphibian Communities

Authors: Miller, DAW, | Outlet: Nature Communications
We quantified the response of amphibian communities to climatic variability across the United States and Canada using more than 500,000 observations for 81 species across 86 study areas. We estimated the relationships between annual variation in climate variables and local colonization and persistence probabilities across more than 5000 surveyed sites. This allowed us to estimate sensitivity to change in five climate variables. Climate sensitivity differs greatly among eco-regions and depends on local climate, species life-history, and phylogeny. Local species richness was especially sensitive to changes in water availability during breeding and changes in winter temperature. These results allowed us to ask whether changing climate explains strong overall rates of decline in species richness observed in our data set. We found that recent change in the climate variables we measured does not explain why North American amphibian richness is rapidly declining, but does explain why some populations decline faster than others. 
Robert Fisher, USGS

Amphibians of the Pacific: natural history and conservation.

Authors: Zug G, Fisher RN | Date: 2018 | Outlet: in: Status of Conservation and Decline of Amphibians: Australia, New Zealand and Pacific Islands. Clayton, Vic. CSIRO Publishing. | Format: .PDF
Endemic anurans occur, with only three exceptions, on the periphery of the Pacific Basin, and only one island group, the Solomon Islands, is a "stepping stone" archipelago that, although lacking past land connections, was nearly connected to a continent or continental islands. This fauna is dominated by species within the family Ceratobatrachidae, all of which have direct development in their eggs, and lack a free living larval stage, an important life-history characteristic when living on variable island habitats where water might be greatly limited. This chapter examines the diversity of native frogs and the current environmental conditions that continue to support the persistence of frog populations and those conditions that push frog populations to local extirpation and eventually to extinction. The non-native (alien) frogs, cane toad, and the diverse anuran fauna of Guam, allow an examination of the physical and biotic environment that permits successful establishment of frogs, and the physiological and behavioural characteristics of successful, invasive species of frogs.
Boris Kuperman, SDSU

Chapter 6. Voucher specimens: Appendix C. Field parasitology techniques for reptile surveys.

Authors: Gardner SL, Fisher RN, Berry SJ | Date: 2012 | Outlet: Reptile Biodiversity: Standard Methods of Inventory and Monitoring | Format: .PDF
Studies of the systematics and ecological characteristics of hosts and their parasites require proper identification of both groups. When the parasites associated with a host are not collected
and preserved properly, species- level diagnostic characters (i.e., morphological characters) are usually destroyed. In addition, improper preservation of parasites severely limits,
or more likely prevents, studies based on DNA from those specimens.