Species and their Ecology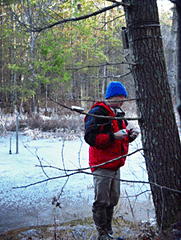 M. Roth (ARMI) installing an acoustic recorder and water-level and water-temperature loggers at an amphibian breeding site in the St. Croix National Scenic Riverway in WI. Photo by: P. Boma.
»
Order
: Anura (formerly Salientia): Frogs and toads
»
Order
: Caudata (formerly Urodela): Salamanders
»
Order
: Gymnophiona: Caecelians
The U.S. is home to approximately 287 of the world's estimated 6,000 amphibian species. The number of known species changes periodically as new species are discovered and new genetic techniques (e.g. molecular genetics) allow scientists to distinguish among cryptic species.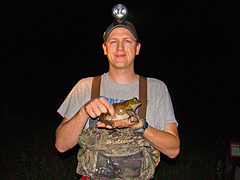 B. Glorioso (ARMI) with American bullfrog in Atchafalaya Basin, LA conducting amphibian surveys. Photo by: L. Elston.
Amphibian Taxonomy
» Scientific and standard names of amphibians and reptiles of North America north of Mexico, with comments regarding confidence in our understanding. (Crother, B.I. (chair). 2008. Publisher: Society for the Study of Amphibians and Reptiles)
» Amphibian species of the world 5.4, an online reference. (Frost, D. 2010. Publisher: American Museum of Natural History)
» Standard common and current scientific names for North American amphibians, turtles, reptiles and crocodillians. (Collins, J.T., and T.W. Taggart. 2009. Publisher: Center for North American Herpetology)
ARMI conducts research on the natural history of species; writing reports and describing the ecology of America's amphibians. ARMI also collaborates with federal and state partners to design, implement, and evaluate management actions that benefit T&E and other imperiled amphibian species.
Federal and State Partners: Information about the status, management, and conservation of amphibians is found throughout the ARMI web site [e.g. Products Database and Topics Sections]. Please consult the "National Amphibian Atlas" to identify the approximate range of the species of interest.
Resources
ARMI Products on Species and their Ecology
* USGS neither sponsors nor endorses non-USGS web sites; per requirement "3.4.1 Prohibition of Commercial Endorsement."
* PDF documents require Adobe Reader or Google Chrome Browser for viewing.

Regional variation in drivers of connectivity for two frog species (

Rana pretiosa

and

R. luteiventris

) from the U.S. Pacific Northwest

Authors: Robertson JM, Murphy MA, Pearl CA, Adams MJ, P?ez-Vacas MI, Haig SM, Pilliod DS, Storfer A, Funk WC | Date: 2018-07-16 | Outlet: Molecular Ecology | Format: .PDF
Comparative landscape genetics has uncovered high levels of variability in which landscape factors affect connectivity among species and regions. However, the relative importance of species traits vs. environmental variation for predicting landscape patterns of connectivity is unresolved. We provide a test with a landscape genetics study of two sister taxa of frogs, the Oregon spotted frog (Rana pretiosa) and the Columbia spotted frog (R. luteiventris) in Oregon and Idaho, USA. Rana pretiosa is relatively more dependent on moisture for dispersal than R. luteiventris, so if species traits influence connectivity, we predicted that connectivity among R. pretiosa populations would be more positively associated with moisture than R. luteiventris. However, if environmental differences are important drivers of gene flow, we predicted that connectivity would be more positively related to moisture in arid regions. We tested these predictions using eight microsatellite loci and gravity models in two R. pretiosa regions and four R. luteiventris regions (n = 1,168 frogs). In R. pretiosa, but not R. luteiventris, connectivity was positively related to mean annual precipitation, supporting our first prediction. In contrast, connectivity was not more positively related to moisture in more arid regions. Various temperature metrics were important predictors for both species and in all regions, but the directionality of their effects varied. Therefore, the pattern of variation in drivers of connectivity was consistent with predictions based on species traits rather than on environmental variation.
B. Sigafus

Quantifying Climate Sensitivity and Climate Driven Change in North American Amphibian Communities

Authors: Miller DAW, Grant EHC, Muths E, Amburgey SM, Adams MJ, Joseph MB, Waddle JH, Johnson PTJ, Ryan ME, Schmidt BR, Calhoun DL, Davis CL, Fisher RN, Green DM, Hossack BR, Rittenhouse TAG, Walls SC, Bailey LL, Cruickshank SS, Fellers GM, Gorman TA, Haas CA, Hughson W, Pilliod DS, Pric | Date: 2018-08 | Outlet: Nature Communications
We quantified the response of amphibian communities to climatic variability across the United States and Canada using more than 500,000 observations for 81 species across 86 study areas. We estimated the relationships between annual variation in climate variables and local colonization and persistence probabilities across more than 5000 surveyed sites. This allowed us to estimate sensitivity to change in five climate variables. Climate sensitivity differs greatly among eco-regions and depends on local climate, species life-history, and phylogeny. Local species richness was especially sensitive to changes in water availability during breeding and changes in winter temperature. These results allowed us to ask whether changing climate explains strong overall rates of decline in species richness observed in our data set. We found that recent change in the climate variables we measured does not explain why North American amphibian richness is rapidly declining, but does explain why some populations decline faster than others. 
M Vandever

Exploring the amphibian exposome in an agricultural landscape using telemetry and passive sampling

Authors: Swanson JE, Muths E, Pierce CL, Dinsmore SJ, Vandever MW, Hladik ML, Smalling KL | Date: 2018-07-03 | Outlet: Scientific Reports (2018) 8:10045 | Format: .PDF
This is the first field study of its kind to combine radio telemetry, passive samplers, and pesticide accumulation in tissues to characterize the amphibian exposome as it relates to pesticides. Understanding how habitat drives exposure in individuals (i.e., their exposome), and how that relates to individual health is critical to managing species in an agricultural landscape where pesticide exposure is likely. We followed 72 northern leopard frogs (Lithobates pipiens) in two agricultural wetlands for insight into where and when individuals are at high risk of pesticide exposure. Novel passive sampling devices (PSDs) were deployed at sites where telemetered frogs were located, then moved to subsequent locations as frogs were radio-tracked. Pesticide concentration in PSDs varied by habitat and was greatest in agricultural fields where frogs were rarely found. Pesticide concentrations in frogs were greatest in spring when frogs were occupying wetlands compared to late summer when frogs occupied terrestrial habitats. Our results indicate that habitat and time of year influence exposure and accumulation of pesticides in amphibians. Our study illustrates the feasibility of quantifying the amphibian exposome to interpret the role of habitat use in pesticide accumulation in frogs to better manage amphibians in agricultural landscapes.