Species and their Ecology
»
Order
: Anura (formerly Salientia): Frogs and toads
»
Order
: Caudata (formerly Urodela): Salamanders
»
Order
: Gymnophiona: Caecelians
The U.S. is home to approximately 287 of the world's estimated 6,000 amphibian species. The number of known species changes periodically as new species are discovered and new genetic techniques (e.g. molecular genetics) allow scientists to distinguish among cryptic species.
Resources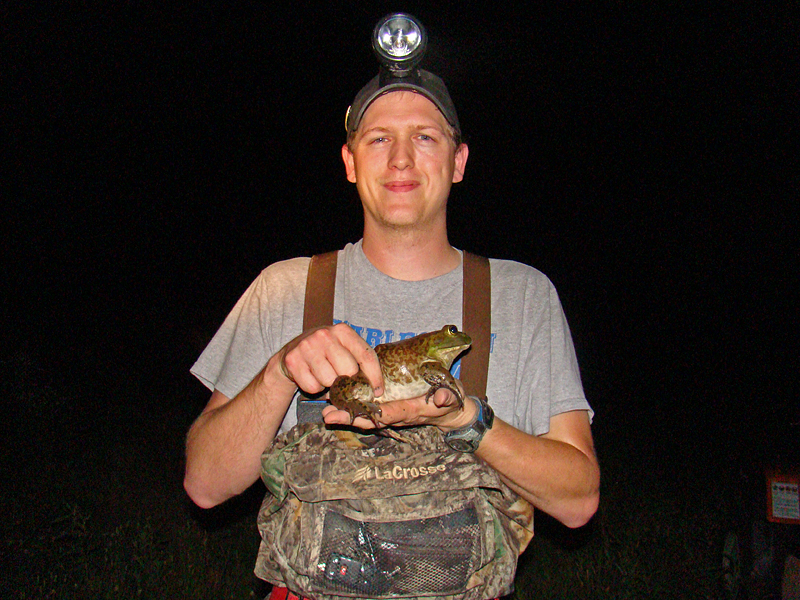 Amphibian Taxonomy
» Scientific and standard names of amphibians and reptiles of North America north of Mexico, with comments regarding confidence in our understanding. (Crother, B.I. (chair). 2008. Publisher: Society for the Study of Amphibians and Reptiles)
» Amphibian species of the world 5.4, an online reference. (Frost, D. 2010. Publisher: American Museum of Natural History)
» Standard common and current scientific names for North American amphibians, turtles, reptiles and crocodillians. (Collins, J.T., and T.W. Taggart. 2009. Publisher: Center for North American Herpetology)
ARMI conducts research on the natural history of species; writing reports and describing the ecology of America's amphibians. ARMI also collaborates with federal and state partners to design, implement, and evaluate management actions that benefit T&E and other imperiled amphibian species.
Federal and State Partners: Information about the status, management, and conservation of amphibians is found throughout the ARMI web site [e.g. Products Database and Topics Sections]. Please consult the "National Amphibian Atlas" to identify the approximate range of the species of interest.
---
Species and their Ecology - ARMI Papers & Reports
Authors: Cayuela H, Valenzuela-Sanchez A, Teulier L, Martinez-Solano I, Lena JP, Merila J, Muths E, Shine R, Quay L, Denoel M, Clobert J, Schmidt BR | Date: 2020-02 | Outlet: The Quarterly Review of Biology | Format: .PDF
Dispersal is a central process in ecology and evolution. It strongly influences the dynamics of spatially structured populations and affects evolutionary processes by shaping patterns of gene flow. For these reasons, dispersal has received considerable attention from ecologists, evolutionary biologists, and conservationists. However, although it has been studied extensively in taxa such as birds and mammals, much less is known about dispersal in vertebrates with complex life cycles such as pond-breeding amphibians. Over the past two decades researchers have taken an ever-increasing interest in amphibian dispersal and initiated both fundamental and applied studies, using a broad range of experimental and observational approaches. This body of research reveals complex dispersal patterns, causations and syndromes, with dramatic consequences for the demography, genetic, and the conservation of amphibian populations. In this review, our goals are to (1) redefine and clarify the concept of amphibian dispersal, (2) review current knowledge about the effects of individual (i.e., condition-dependent dispersal) and environmental (i.e., context-dependent dispersal) factors during the three stages of dispersal (i.e., emigration, immigration, transience), (3) identify the demographic and genetic consequences of dispersal in spatially structured amphibian populations, and (4) propose new research avenues to extend our understanding of amphibian dispersal.
Papers & Reports

ACRIS BLANCHARDI (Blanchard's Cricket Frog). Predation.

Authors: Maldonado BR, Glorioso BM, Kidder RP | Date: 2020-06 | Outlet: Herpetological Review 51(2):296 | Format: .PDF

A natural history note describing predation of a Blanchard's Cricket Frog by a wolf spider at an elevated height.
Authors: Stanley TR, Clark RW, Fisher RN, Rochester CJ, Root SA, Lombardo KJ, Ostermann-Kelm SD | Date: 2020-06-29 | Outlet: Conservation Science and Practice 2020;e245. | Format: .PDF
Long-term ecological monitoring provides valuable and objective scientific information to inform management and decision making. In this paper we analyze 22 years of herpetofauna monitoring data from the Point Loma Ecological Conservation Area (PLECA), an insular urban reserve near San Diego, California. Our analysis showed that counts of individuals for one of the four most common terrestrial vertebrates declined, whereas counts for other common species increased or remained stable. Two species exhibited declines in adult body length, whereas biomass pooled over the five most common species increased over time and was associated with higher wet season precipitation. Although the habitat and vegetation at PLECA have remained protected and intact, we suspect that changes in arthropod communities may be driving changes in the abundance, growth, and development of insectivorous lizards. This study underscores the value of long-term monitoring for establishing quantitative baselines to assess biological changes that would otherwise go undetected.
View All Papers & Reports on Species and their Ecology
View All Data Releases on Species and their Ecology
---
* USGS neither sponsors nor endorses non-USGS web sites; per requirement "3.4.1 Prohibition of Commercial Endorsement."
* PDF documents require
Adobe Reader
or
Google Chrome Browser
for viewing.