ARMI
»
Topics
»
Stressors
Stressors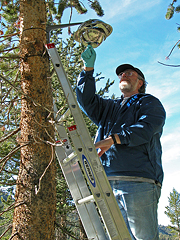 G. Fellers
(ARMI) changing a filter in an air sampler that is used to measure agricultural chemicals that drift into Yosemite NP, California. Photo by: J. Fellers.
Declines in amphibian populations have occurred not only on areas clearly impacted by human activities such as urbanization, but also on protected lands intended to buffer amphibians and other wildlife from anthropogenic disturbances. Some stressors are not stopped by preserve boundaries and can affect wildlife populations 10's or 100's of kilometers from their source or point of use. For example, pesticides, fertilizers, or supplements given to livestock can be transported from the terrestrial setting where they are applied, to aquatic environments via precipitation, run-off, erosion, wind, and misuse. Conversely, some contaminants such as mercury or selenium occur naturally, but can be concentrated, or disturbed and released into the environment by human activities. Amphibian populations can be exposed to multiple stressors simultaneously, producing novel conditions with unknown outcomes.
ARMI scientists conduct research to identify stressors and evaluate their impacts on amphibian individuals and populations.
ARMI Papers & Reports on Stressors
* USGS neither sponsors nor endorses non-USGS web sites; per requirement "3.4.1 Prohibition of Commercial Endorsement."
* PDF documents require Adobe Reader or Google Chrome Browser for viewing.

Managing the trifecta of disease, climate, and contaminants: Searching for robust choices under multiple sources of uncertainty

Authors: Smalling, KL, Eagles-Smith, CA, Katz, RA, Grant, EHC | Date: 2019-05-30 | Outlet: Biological Conservation 236: 153-161 | Format: .PDF
Amphibian populations are exposed to multiple stressors, with potential for synergistic effects. These synergies can increase uncertainty in our ability to characterize the effects of each stressor and to understand the degree to which their effects interact to impact population processes. This uncertainty challenges our ability to identify appropriate management alternatives. Finding solutions that are robust to these uncertainties can improve management when knowledge is absent or equivocal and identify critical knowledge gaps. Bayesian Belief Networks (BBNs) are probabilistic graphical models that explicitly account for various sources of uncertainty and are used increasingly by environmental practitioners because of their broad applicability to ecological risk assessments. BBNs allow the user to: 1) generate a conceptual model to link actions to outcomes, 2) use a variety of source data (empirical or expert opinion), 3) explore robust management strategies under uncertainty, 4) use sensitivity analysis to identify opportunities for developing new management actions, and 5) guide the design of data collection for monitoring to improve management decisions. BBNs contribute considerably to environmental research and management because they are transparent and treat uncertainty explicitly. Because of the high level of uncertainty in stressor response, we developed a BBN to conceptually evaluate the effects of potential management actions on amphibian populations exposed to disease, environmental contaminants, and increasingly frequent and severe droughts

Challenges in complementing data from ground-based sensors with satellite-derived products to measure ecological changes in relation to climate?lessons from temperate wetland-upland landscapes

Authors: Gallant AL, Sadinski W, Brown JF, Senay GB, Roth MR | Date: 2018-03-16 | Outlet: Sensors 18(3)880 | Format: URL
Assessing climate-related ecological changes across spatiotemporal scales meaningful to resource managers is challenging because no one method reliably produces essential data at both fine and broad scales. We recently confronted such challenges while integrating data from ground- and satellite-based sensors for an assessment of four wetland-rich study areas in the U.S. Midwest. We examined relations between temperature and precipitation and a set of variables measured on the ground at individual wetlands and another set measured via satellite sensors within surrounding 4 km2 landscape blocks. At the block scale, we used evapotranspiration and vegetation greenness as remotely sensed proxies for water availability and to estimate seasonal photosynthetic activity. We used sensors on the ground to coincidentally measure surface-water availability and amphibian calling activity at individual wetlands within blocks. Responses of landscape blocks generally paralleled changes in conditions measured on the ground, but the latter were more dynamic, and changes in ecological conditions on the ground that were critical for biota were not always apparent in measurements of related parameters in blocks. Here, we evaluate the effectiveness of decisions and assumptions we made in applying the remotely sensed data for the assessment and the value of integrating observations across scales, sensors, and disciplines.

Multi-year data from satellite- and ground-based sensors show details and scale matter in assessing climate's effects on wetland surface water, amphibians, and landscape conditions

Authors: Sadinski W, Gallant AL, Roth M, Brown J, Senay G, Brininger W, Jones PM, Stoker J | Date: 2018-09-07 | Outlet: PLoS ONE 13(9): e0201951 | Format: URL
Long-term, interdisciplinary studies of relations between climate and ecological conditions on wetland-upland landscapes have been lacking, especially studies integrated across scales meaningful for adaptive resource management. We collected data in situ at individual wetlands, and via satellite for surrounding 4-km2 landscape blocks, to assess relations between annual weather dynamics, snow duration, phenology, wetland surface-water availability, amphibian presence and calling activity, greenness, and evapotranspiration in four U.S. conservation areas from 2008 to 2012. Amid recent decades of relatively warm growing seasons, 2012 and 2010 were the first and second warmest seasons, respectively, dating back to 1895. Accordingly, we observed the earliest starts of springtime biological activity during those two years. In all years, early-season amphibians first called soon after daily mean air temperatures were ? 0°C and snow had mostly melted. Similarly, satellite-based indicators suggested seasonal leaf-out happened soon after snowmelt and temperature thresholds for plant growth had occurred. Daily fluctuations in weather and water levels were related to amphibian calling activity, including decoupling the timing of the onset of calling at the start of season from the onset of calling events later in the season. Within-season variation in temperature and precipitation also was related to vegetation greenness and evapotranspiration, but more at monthly and seasonal scales. Wetland water levels were moderately to strongly associated with precipitation and early or intermittent wetland drying likely reduced amphibian reproduction success in some years, even though Pseudacris crucifer occupied sites at consistently high levels. Notably, satellite-based indicators of landscape water availability did not suggest such consequential, intra-seasonal variability in wetland surface-water availability. Our cross-disciplinary data show how temperature and precipitation interacted to affect key ecological relations and outcomes on our study landscapes. These results demonstrate the value of multi-year studies and the importance of scale for understanding actual climate-related effects in these areas.