Monitoring and Population Ecology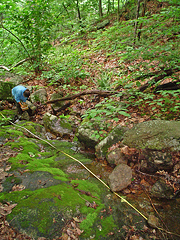 K. Cecala (ARMI) sampling a stream in Shenandoah NP for salamanders. Photo by:
E. Grant
.
Advances in technology (e.g., PIT tags) have allowed scientists to individually mark more types of species than ever before, and concurrent developments in biometrics have allowed scientists to ask more types of questions about animal populations under more circumstances. Some of these developments have been particularly useful when estimating parameters about amphibians, a group that can be difficult to sample (e.g., multiple life stages, small size, difficult to mark, high juvenile mortality).
These developments in marking and estimation have allowed scientists to ask specific questions about the effects of potential stressors or beneficial management actions on amphibian populations, and quantify these responses.
ARMI Products on Monitoring and Population Ecology
* USGS neither sponsors nor endorses non-USGS web sites; per requirement "3.4.1 Prohibition of Commercial Endorsement."
* PDF documents require Adobe Reader or Google Chrome Browser for viewing.
Elizabeth Gallegos, USGS

Chapter D. Summary and conclusions.

Authors: Schroeder RA, Gallegos EA, Smith GA, Martin P, Fisher RN | Date: 2015 | Outlet: U.S. Geological Survey Scientific Investigations Report pp 97-106
Hydrological and biological investigations were done during 2005 and 2006 in cooperation with the U.S. National Park Service at Darwin Falls in Death Valley National Park, Piute Spring in Mojave National Preserve, and Fortynine Palms Oasis in Joshua Tree National Park where discharge from springs or groundwater seeps sustains rare perennial streams in the otherwise arid environment of the Mojave Desert in which surface water is scarce and usually ephemeral. The study collected data on water quantity (discharge), temperature, water quality, and endemic anuran (frog and toad) populations and their health. In addition, a single survey of endemic anuran populations and their health was completed at Rattlesnake Canyon in the Joshua Tree National Park. Results from this study were compared to historical data, and can provide a baseline for future hydrological and biological investigations to evaluate health and sustainability of the resource as well as its response to changing climate and increases in human use.
NWHC, USGS

Chapter C. Anuran abundance and health at selected springs in the Mojave network parks.

Authors: Gallegos EA, Fisher RN | Date: 2015 | Outlet: U.S. Geological Survey Scientific Investigations Report pp. 77-95
Data collected from the biological surveys completed for this study were evaluated to document the reproduction, estimate the population, and assess the overall health of each of the endemic anuran species present at the Darwin Falls, Piute Spring, and Fortynine Palms Oasis study areas. Where available, historical biological data also were evaluated.
Boris Kuperman, SDSU

Chapter 6. Voucher specimens: Appendix C. Field parasitology techniques for reptile surveys.

Authors: Gardner SL, Fisher RN, Berry SJ | Date: 2012 | Outlet: Reptile Biodiversity: Standard Methods of Inventory and Monitoring | Format: .PDF
Studies of the systematics and ecological characteristics of hosts and their parasites require proper identification of both groups. When the parasites associated with a host are not collected
and preserved properly, species- level diagnostic characters (i.e., morphological characters) are usually destroyed. In addition, improper preservation of parasites severely limits,
or more likely prevents, studies based on DNA from those specimens.