ARMI
»
Topics
»
Monitoring and Population Ecology
Monitoring and Population Ecology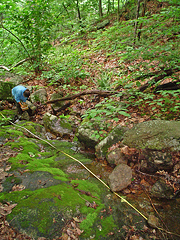 K. Cecala (ARMI) sampling a stream in Shenandoah NP for salamanders. Photo by:
E. Grant
.
Advances in technology (e.g., PIT tags) have allowed scientists to individually mark more types of species than ever before, and concurrent developments in biometrics have allowed scientists to ask more types of questions about animal populations under more circumstances. Some of these developments have been particularly useful when estimating parameters about amphibians, a group that can be difficult to sample (e.g., multiple life stages, small size, difficult to mark, high juvenile mortality).
These developments in marking and estimation have allowed scientists to ask specific questions about the effects of potential stressors or beneficial management actions on amphibian populations, and quantify these responses.
ARMI Papers & Reports on Monitoring and Population Ecology
* USGS neither sponsors nor endorses non-USGS web sites; per requirement "3.4.1 Prohibition of Commercial Endorsement."
* PDF documents require Adobe Reader or Google Chrome Browser for viewing.
Kelsey Ruehling, USGS

Monitoring Protocol Development and Assessment for Narrowly Endemic Toads in Nevada, 2018

Authors: Halstead BJ, Kleeman PM, Duarte A, Rose JP, Urquhart K, Mellison C, Guadalupe K, Cota M, Killion A, Ruehling K, Van Horne R | Date: 2019-06-18 | Outlet: U.S. Geological Survey Open-File Report 2019–1067 | Format: .PDF
Several species and subspecies of toads are endemic to small spring systems in the Great Basin, and their restricted ranges and habitat extent makes them vulnerable to environmental perturbations. Very little is known about several of these toad populations, so a group of stakeholders including the U.S. Geological Survey, U.S. Fish and Wildlife Service, Bureau of Land Management, Nevada Department Of Wildlife, the U.S. Navy, U.S. Forest Service, and Oregon State University met to discuss information needs on these populations and to develop a monitoring protocol that would detect population changes over time. In cooperation with the U.S. Fish and Wildlife Service, the U.S. Geological Survey implemented the proposed survey protocol, a multi-state occupancy design, for three sites: Dixie Valley , Railroad Valley, and Hot Creek, to evaluate its ease of implementation and effectiveness. We found that the multi-state occupancy protocol worked well in the Dixie Valley and, with some refinement, would likely work well in the Railroad Valley. We suggest that capture-mark-recapture of adults might be a more effective approach at Hot Creek. For most life stages of most populations, detection probabilities were positively related to survey duration up to 20 minutes, and the best time of day to conduct surveys varied by life stage and population. We make population-specific suggestions for the number of surveys and their timing and duration. Annual surveys using the suggested survey protocols will likely allow estimation of trends in the proportion of area of each population existing in different population states (occupied, occupied with evidence of reproduction, and unoccupied) and in most cases can be readily implemented with minimal training or handling of toads.
E Muths

A continuum of risk tolerance: Reintroductions of toads in the Rockies

Authors: Muths E, Wright FB, Bailey LL | Outlet: book - Susan Walls | Format: .PDF
Success in reintroducing amphibians may be more context- than detail-dependent such that a slavish adherence to protocol may not foster success better than a more intuitive approach. We provide two reintroduction case studies for boreal toads where the approach was different, but where both resulted in gains in understanding, including first estimates of survival for boreal toads from a reintroduced population. Given the effects of disease on amphibian populations and the potential for disease to remain in a system after extirpation, there is a need to restructure reintroduction guidelines. Maintaining populations on the landscape through reintroductions provides an opportunity for the development of resistance and may facilitate species persistence into the future. But to be effective, care in understanding the context of the reintroduction and a re-envisioning of guidelines is necessary.

Conservation research across scales in a national program: how to be relevant to local management yet general at the same time

Authors: Adams MJ, Muths E | Date: 2019-08 | Outlet: Biological Conservation 236:100-106 | Format: .PDF
Successfully addressing complex conservation problems requires attention to pattern and process at multiple spatial scales. This is challenging from a logistical and organizational perspective. In response to indications of worldwide declines in amphibian populations, the Amphibian Research and Monitoring Initiative (ARMI) of the U.S. Geological Survey was established in 2000. This national program is unique in its structure, organization, and success in integrating information at multiple scales. ARMI works under the principle that a good study design is tailored to specific questions, but stipulates the use of methods that result in unbiased parameter estimates (e.g., occupancy). This allows studies to be designed to address local questions but also to produce data that can easily be scaled up to accomplish the objectives of a broad-scale monitoring program. Here we describe how the implementation of the Amphibian Research and Monitoring Initiative results in research that is applicable across scales – global, in contributing to the understanding of amphibian decline phenomena; continental, in synthesizing local data to understand large-scale drivers; regional, by characterizing threats and assessing status of species at the range scale; and local, by working with National Park, Wildlife Refuge, and other Federal and State land managers to identify research needs and serve conservation-relevant research results to inform management decisions.