Monitoring and Population Ecology
Advances in technology (e.g., PIT tags) have allowed scientists to individually mark more types of species than ever before, and concurrent developments in biometrics have allowed scientists to ask more types of questions about animal populations under more circumstances. Some of these developments have been particularly useful when estimating parameters about amphibians, a group that can be difficult to sample (e.g., multiple life stages, small size, difficult to mark, high juvenile mortality).
These developments in marking and estimation have allowed scientists to ask specific questions about the effects of potential stressors or beneficial management actions on amphibian populations, and quantify these responses.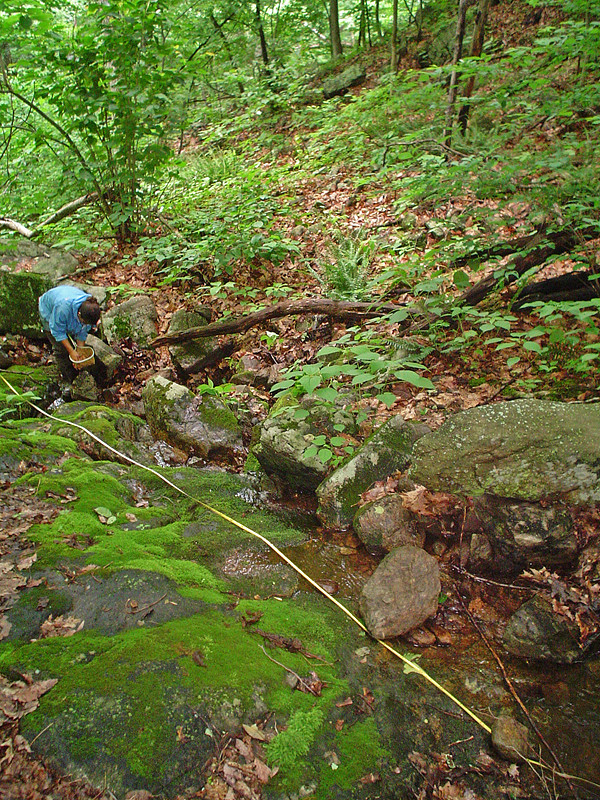 ---
Monitoring and Population Ecology - ARMI Papers & Reports
Papers & Reports

Estimation of metademographic rates and landscape connectivity for a conservation-reliant anuran

Authors: Duarte A, Peterson JT, Pearl CA, Rowe JC, McCreary B, Galvan SK, Adams MJ | Outlet: Landscape Ecology

Context Amphibian conservation efforts commonly assume populations are tied to waterbodies that collectively function as a metapopulation. This assumption is rarely evaluated, and there is a need to understand the degree of connectivity among patches to appropriately define, manage, and conserve biological populations.

Objectives Our objectives were to quantify local persistence, colonization, and recruitment (metademographic rates) in relation to habitat attributes, evaluate the influence of the spatial arrangement of patches on landscape-scale population dynamics, and estimate the scale at which metapopulation dynamics are occurring for the Oregon spotted frog (Rana pretiosa).

Methods We collected R. pretiosa detection/non-detection data and habitat information from 93 sites spread throughout the species' core extant range in Oregon, USA, 2010–2018. We developed a spatial multistate dynamic occupancy model to analyze these data.

Results Results indicated the proportion of sites occupied by R. pretiosa was relatively stable despite regular turnover in site occupancy. Connectivity was highest when the distance between sites was within 4.49–

7.70

km, and populations within 1 km are at the appropriate spatial scale for effective population management. Rana pretiosa metademographic rates were strongly tied to water availability, vegetation characteristics, and beaver dams.

Conclusions Our analysis provides critical information to identify the appropriate spatial scale for effective population management, estimates the distance at which populations are connected, and quantifies the effects of hypothesized threats to species at a landscape scale. We believe this type of model can inform conservation and management strategies for multiple species.
Authors: Stanley TR, Clark RW, Fisher RN, Rochester CJ, Root SA, Lombardo KJ, Ostermann-Kelm SD | Date: 2020-06-29 | Outlet: Conservation Science and Practice 2020;e245. | Format: .PDF
Long-term ecological monitoring provides valuable and objective scientific information to inform management and decision making. In this paper we analyze 22 years of herpetofauna monitoring data from the Point Loma Ecological Conservation Area (PLECA), an insular urban reserve near San Diego, California. Our analysis showed that counts of individuals for one of the four most common terrestrial vertebrates declined, whereas counts for other common species increased or remained stable. Two species exhibited declines in adult body length, whereas biomass pooled over the five most common species increased over time and was associated with higher wet season precipitation. Although the habitat and vegetation at PLECA have remained protected and intact, we suspect that changes in arthropod communities may be driving changes in the abundance, growth, and development of insectivorous lizards. This study underscores the value of long-term monitoring for establishing quantitative baselines to assess biological changes that would otherwise go undetected.
Authors: Niemiller ML, Reynolds RG, Glorioso BM, Spiess J, Miller BT | Date: 2011 | Outlet: Herpetological Conservation and Biology6(1):127-141 | Format: .PDF
The cedar glades and barrens of the Inner Central Basin (ICB) of middle Tennessee support a unique and diverse flora and fauna and represent some of the state's most valued natural areas. We conducted herpetofaunal inventories of the cedar glades, associated barrens, cedar-hardwood forest, and adjacent aquatic habitats of the Stones River drainage of Middle Tennessee, focusing our sampling effort primarily at seven state- or federally owned properties in Rutherford and Wilson counties. These properties included Stones River National Battlefield (SRNB), Flat Rock State Natural Area (FRSNA), Vesta Cedar Glade State Natural Area (VSNA), Fall Creek Recreation Area (FCRA) on J. Percy Priest Wildlife Management Area, Cedars of Lebanon State Forest (CLSF), Cedars of Lebanon State Forest Natural Area (CLSNA), and Cedars of Lebanon State Park (CLSP). We used a variety of inventory techniques in terrestrial, aquatic, and subterranean habitats to survey these properties periodically from 1989 to 2010. We documented 49 species (22 amphibian and 27 reptile) accounting for 75.4% of the 65 herpetofaunal species thought to occur in the ICB, including records for Cemophora coccinea, Aneides aeneus, Gyrinophilus palleucus, Ambystoma barbouri, and Pseudotriton montanus. We found differences in alpha and beta diversity between sites, with the CLSF complex containing a high of 41 herpetofaunal species and FRSNA containing a low of 23 species. Beta diversity comparisons indicated similarity in amphibian species composition between FRSNA and CLSF and between SRNB and CLSF (9 shared species), and in reptile species composition between VSNA and the CLSF complex (16 shared species). We compare the results of our inventory with two previous studies conducted in the area and discuss the relative abundance, conservation, and threats to the herpetofaunal community of these habitats.
View All Papers & Reports on Monitoring and Population Ecology
View All Data Releases on Monitoring and Population Ecology
---
* USGS neither sponsors nor endorses non-USGS web sites; per requirement "3.4.1 Prohibition of Commercial Endorsement."
* PDF documents require
Adobe Reader
or
Google Chrome Browser
for viewing.