Management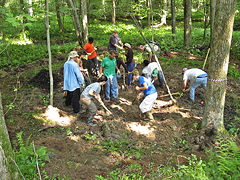 Larissa Bailey (Colorado State), USGS, FWS, and SCC volunteers building vernal pools at Patuxent NWR, to adaptively manage for climate change. Photo by: A. Green.
Only a few years ago, amphibians were rarely considered in the development and implementation of management plans. But now, itís not uncommon to see amphibian populations as the primary targets of management activities.
ARMI scientists conduct research on the impacts of various traditional management actions on amphibians, and have worked with partners to develop and test novel management options specifically to benefit amphibians.
Important decisions are made every day on management and policy that affect multiple wildlife species. ARMI works with its partners in Federal and State agencies to develop processes for structuring their natural resource decisions to achieve their conservation objectives related to amphibians.
ARMI Products on Management
* USGS neither sponsors nor endorses non-USGS web sites; per requirement "3.4.1 Prohibition of Commercial Endorsement."
* PDF documents require Adobe Reader or Google Chrome Browser for viewing.
BA Mosher

Design- and model-based recommendations for detecting and quantifying an amphibian pathogen in environmental samples

Authors: Mosher BA, Huyvaert KP, Chestnut T, Kerby JL, Madison JD, Bailey LL | Date: 2017-12 | Outlet: Ecology and Evolution | Format: .PDF
Accurate pathogen detection is essential for developing management strategies to address emerging infectious diseases, an increasingly prominent threat to wildlife. Sampling for free-living pathogens outside of their hosts has benefits for inference and study efficiency, but is still uncommon. We used a laboratory experiment to evaluate the influences of pathogen concentration, water type, and qPCR inhibitors on the detection and quantification of Batrachochytrium dendrobatidis (Bd) using water filtration. We compared results pre- and post-inhibitor removal, and assessed inferential differences when single versus multiple samples were collected across space or time. We found that qPCR inhibition influenced both Bd detection and quantification in natural water samples, resulting in biased inferences about Bd occurrence and abundance. Biases in occurrence could be mitigated by collecting multiple samples in space or time, but biases in Bd quantification were persistent. Differences in Bd concentration resulted in variation in detection probability, indicating that occupancy modeling could be used to explore factors influencing heterogeneity in Bd abundance among samples, sites, or over time. Our work will influence the design of studies involving amphibian disease dynamics and studies utilizing environmental DNA (eDNA) to understand species distributions.
P Bartelt

Response of anurans to wetland restoration on a midwestern agricultural landscape

Authors: Bartelt P E, Klaver R W | Date: 2017-09-01 | Outlet: Journal of Herpetology 51:504-514 | Format: .PDF
Since the early 1990s, > 5,000 ha of historic wetlands (and adjacent prairie)
have been restored on the row-crop agricultural landscape of Winnebago County, Iowa, USA.
From 2008?2011, we surveyed 22 of these sites for probabilities of occupancy and colonization
by Boreal Chorus Frogs (BCF; Pseudacris maculata), Northern Leopard Frogs (NLF; Lithobates
pipiens), and American Toads (AT; Anaxyrus americanus). We used radio telemetry to measure
patterns of movement and habitat use by 22 NLF and 54 AT, and deployed biophysical models
in available habitats to estimate their physiological costs. BCF occupied 100% of restored
wetlands; NLF and AT occupied 59?91% and 71?89%, respectively, varying according to annual
weather conditions. BCF colonized new sites within a year; NLF and AT required 3 and 2 yr,
respectively.

An extirpated lineage of a threatened frog species resurfaces in southern California

Authors: Backlin R, Richmond J, Gallegos E, Fisher R, Christensen C | Date: 2017-07-21 | Outlet: Oryx doi 10.1017/S0030605317001168
The California red-legged frog Rana draytonii has been declining across its native range since the 1960s and was considered extirpated from most of southern California. In February 2017, a population of R. draytonii was re-discovered in the San Bernardino Mountains of Riverside County, California, where it has not been documented since 1959 (LACM 91074). This population belongs to a mtDNA lineage thought to be extinct from this species within the United States but still extant in Mexican populations. This discovery increases the potential for future, evolutionarily-informed translocations within the southern portion of this species range in California.