Management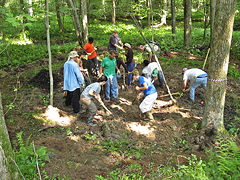 Larissa Bailey (Colorado State), USGS, FWS, and SCC volunteers building vernal pools at Patuxent NWR, to adaptively manage for climate change. Photo by: A. Green.
Only a few years ago, amphibians were rarely considered in the development and implementation of management plans. But now, it's not uncommon to see amphibian populations as the primary targets of management activities.
ARMI scientists conduct research on the impacts of various traditional management actions on amphibians, and have worked with partners to develop and test novel management options specifically to benefit amphibians.
Important decisions are made every day on management and policy that affect multiple wildlife species. ARMI works with its partners in Federal and State agencies to develop processes for structuring their natural resource decisions to achieve their conservation objectives related to amphibians.
ARMI Products on Management
* USGS neither sponsors nor endorses non-USGS web sites; per requirement "3.4.1 Prohibition of Commercial Endorsement."
* PDF documents require Adobe Reader or Google Chrome Browser for viewing.
E. Muths

Amphibian conservation: clarifications to comments from Andreone

Authors: Muths E, Fisher RN | Date: 2017 | Format: .PDF
We appreciate the review and comments from Andreone (2016) regarding our proposed alternative strategy for addressing the amphibian crisis. Andreone recognizes the utility of an incident command system approach but doubts the feasibility of implementation at an international level. We stated in our original article, however, that 'The feasibility of our suggestion is debatable, but our point is that radically different approaches are necessary to effectively manage the largest extinction event in modern history'

Amphibian dynamics in constructed ponds on a wildlife refuge: developing expected responses to hydrological restoration

Author: Hossack BR | Date: 2016 | Outlet: Hydrobiologia
Management actions are based upon predictable responses. To form expected responses to restoration actions, I estimated habitat relationships and trends (2002‒2015) for four pond-breeding amphibians on a wildlife refuge (Montana, USA) where changes to restore historical hydrology to the system greatly expanded (≥8 times) the flooded area of the primary breeding site for western toads (Anaxyrus boreas). Additional restoration actions are planned for the near future, including removing ponds that provide amphibian habitat. Multi-season occupancy models based on data from 15 ponds sampled during 7 years revealed that the number of breeding subpopulations increased modestly for Columbia spotted frogs (Rana luteiventris) and was stationary for long-toed salamanders (Ambystoma macrodactylum) and Pacific treefrogs (Pseudacris regilla). For these three species, pond depth was the characteristic that was associated most frequently with occupancy or changes in colonization and extinction. In contrast, a large decrease in colonization by western toads explained the decline from eight occupied ponds in 2002 to two ponds in 2015. This decline occurred despite an increase in wetland area and the colonization of a newly-created pond. These changes highlight the challenges of managing for multiple species and how management responses can be unpredictable, possibly reducing the efficacy of targeted actions.

Notes on the Distribution of Tiger Salamanders (presumed <i>Ambystoma mavortium stebbinsi</i>) in Sonora, Mexico

Authors: Hossack, BR, Muths, E, Rorabaugh, JC, Lemos Espinal, JA, Sigafus, BH, Chambert, T, Carreon Arroyo, G, Hurtado Felix, D, Toyos Martinez, D, Jones, TR | Date: 2016-06 | Outlet: Herpetological Review