Fire is a natural and necessary component of some ecosystems and not others. In many regions of the country, it's a management tool used to shift the structure, species, composition and chemistry of an ecosystem to a desired condition. Some predictions suggest that the continued alteration of the land combined with climate change will change the timing, frequency and intensity of fires throughout the country. These predictions underscore the importance of understanding the impacts of fire characteristics on potentially sensitive species. It is against this backdrop that ARMI scientists study the impacts of fires on amphibian communities.
---
Fire - ARMI Papers & Reports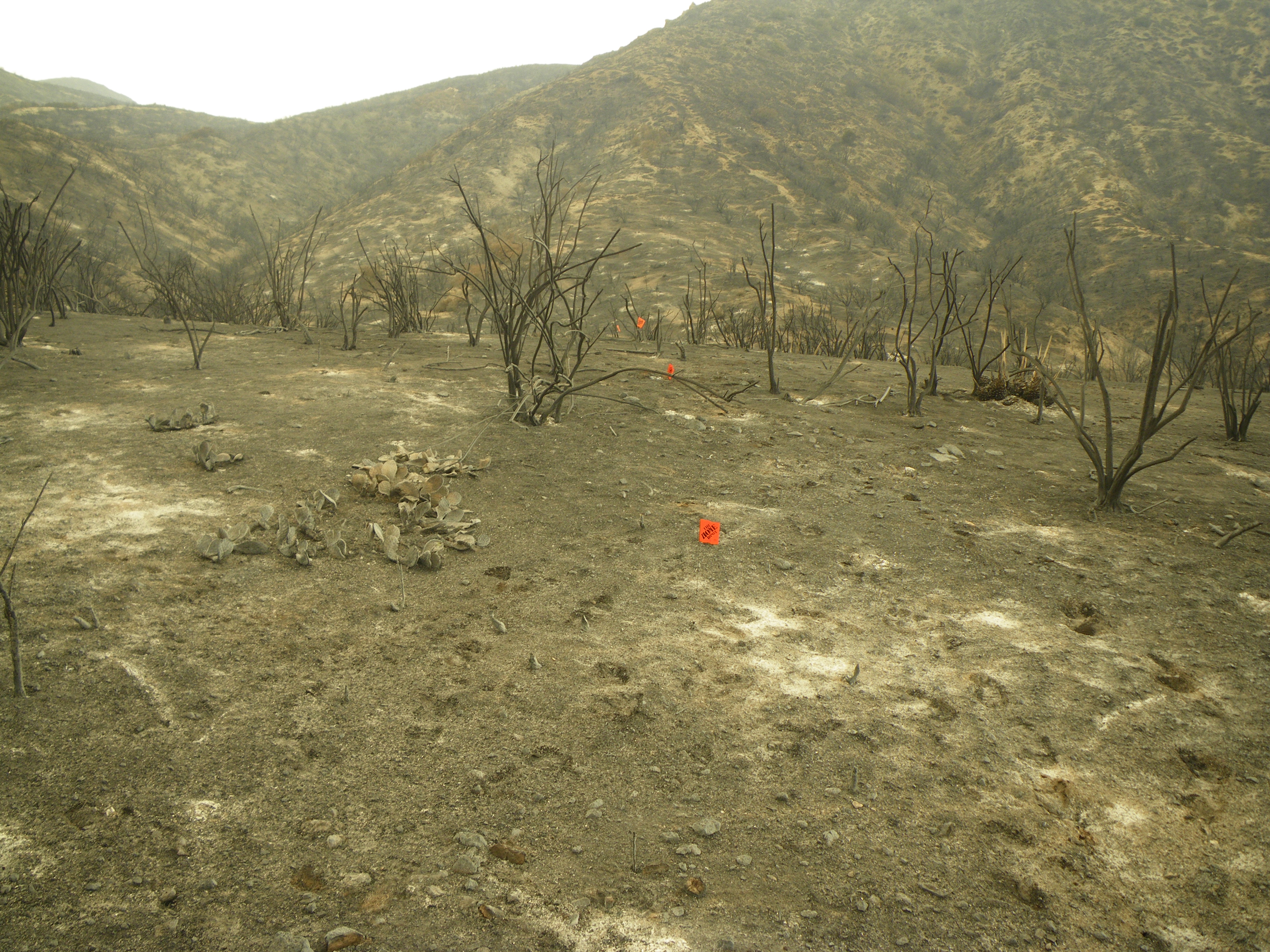 Authors: Tracey J A, Rochester C J, Hathaway S A, Preston K L, Syphard A D, Vandergast A G, Diffendorfer J E, Franklin J, MacKenzie J B, Oberbauer T A, Tremor S, Winchell C, Fisher R N | Date: 2018-09-07 | Outlet: PLoS ONE | Format: .PDF
In many parts of the world, the combined effects of habitat fragmentation and altered disturbance regimes pose a significant threat to biodiversity. This is particularly true in Mediterranean-type ecosystems (MTEs), which tend to be fire-prone, species rich, and heavily impacted by human land use. Given the spatial complexity of overlapping threats and species? vulnerability along with limited conservation budgets, methods are needed for prioritizing areas for monitoring and management in these regions. We developed a multi-criteria Pareto ranking methodology for prioritizing spatial units for conservation and applied it to fire threat, habitat fragmentation threat, species richness, and genetic biodiversity criteria in San Diego County, California, USA. We summarized the criteria and Pareto ranking results (from west to east) within the maritime, coastal, transitional, inland climate zones within San Diego County. Fire threat increased from the maritime zone eastward to the transitional zone, then decreased in the mountainous inland climate zone. Number of fires and fire return interval departure were strongly negatively correlated. Fragmentation threats, particularly road density and development density, were highest in the maritime climate zone and declined as we moved eastward and were positively correlated. Species richness criteria showed distributions among climate zones similar to that of the fire threat variables. When using species richness and fire threat criteria, most lower-ranked (higher conservation priority) units occurred in the coastal and transitional zones. When considering genetic biodiversity, lower-ranked units occurred more often in the mountainous inland zone. With Pareto ranking, there is no need to select criteria weights as part of the decision-making process. However, negative correlations and larger numbers of criteria can result in more units assigned to the same rank. Pareto ranking is broadly applicable and can be used as a standalone decision analysis method or in conjunction with other methods.
Authors: Syphard AD, Butsic V, Bar-Massada A, Keeley JE, Tracey JA, Fisher RN | Date: 2016 | Outlet: Ecology and Society 21(3):2. | Format: .PDF
Although wildfire plays an important role in maintaining biodiversity in many ecosystems, fire management to protect human assets is often carried out by different agencies than those tasked for conserving biodiversity. In fact, fire risk reduction and biodiversity conservation are often viewed as competing objectives. Here we explored the role of management through private land conservation and asked whether we could identify private land acquisition strategies that fulfill the mutual objectives of biodiversity conservation and fire risk reduction, or whether the maximization of one objective comes at a detriment to the other. Using a fixed budget and number of homes slated for development, we simulated 20 years of housing growth under alternative conservation selection
strategies, and then projected the mean risk of fires destroying structures and the area and configuration of important habitat types in San Diego County, California, USA. We found clear differences in both fire risk projections and biodiversity impacts based on the way conservation lands are prioritized for selection, but these differences were split between two distinct groupings. If no conservation lands were purchased, or if purchases were prioritized based on cost or likelihood of development, both the projected fire risk and biodiversity impacts were much higher than if conservation lands were purchased in areas with high fire hazard or high species richness. Thus, conserving land focused on either of the two objectives resulted in nearly equivalent mutual benefits for both. These benefits not only resulted from preventing development in sensitive areas, but they were also due to the different housing patterns and arrangements that occurred as development was displaced from those areas. Although biodiversity conflicts may still arise using other fire management strategies, this study shows that mutual objectives can be attained through land-use planning in this region. These results likely generalize to any place where high species richness overlaps with hazardous wildland vegetation.
Papers & Reports

Declines revisited: long-term recovery and spatial population dynamics of tailed frog larvae after wildfire

Authors: Hossack BR, Honeycutt RK | Outlet: Biological Conservation

Drought has fueled an increased frequency and severity of large wildfires in many ecosystems. Despite an increase in research on wildfire effects on vertebrates, the vast majority of it has focused on short-term (<5 yrs) effects and there is still little information on the time scale of population recovery for species that decline in abundance after fire. In 2003, a large wildfire in Montana (USA) burned the watersheds of four of eight streams that we sampled for larval Rocky Mountain tailed frogs (Ascaphus montanus) in 2001. Surveys during 2004?2005 revealed reduced abundance of larvae in burned streams relative to unburned streams, with greater declines associated with increased fire extent. Rocky Mountain tailed frogs have low vagility and have several unusual life-history traits that could slow population recovery, including an extended larval period (4 yrs), delayed sexual maturity (6?8 yrs), and low fecundity (<50 eggs/yr). To determine if abundance remained depressed since the 2003 wildfire, we repeated surveys during 2014?2015 and found relative abundance of larvae in burned and unburned streams had nearly converged to pre-fire conditions within two generations. The negative effects of burn extent on larval abundance weakened >58% within 12 yrs after the fire. We also found moderate synchrony among populations in unburned streams and negative spatial autocorrelation among populations in burned streams. We suspect negative spatial autocorrelation among spatially-clustered burned streams reflected increased post-fire patchiness in resources and different rates of local recovery. Our results add to a growing body of work that suggests populations in intact ecosystems tend to be resilient to habitat changes caused by wildfire. Our results also provide important insights into recovery times of populations that have been negatively affected by severe wildfire.
View All Papers & Reports on Fire
View All Data Releases on Fire
---
* USGS neither sponsors nor endorses non-USGS web sites; per requirement "3.4.1 Prohibition of Commercial Endorsement."
* PDF documents require
Adobe Reader
or
Google Chrome Browser
for viewing.