Search term(s)
Contribution Number
---
Search Results
9 record(s) found.
Authors: K L Smalling
Date: 2021-05-09 | Outlet: US Geological Survey data release
Authors: W J Sadinski; F Roth
Date: 2020-05-20 | Outlet: U.S. Geological Survey data release, https://doi.org/10.5066/P9H4VLEM
To relate water levels in our study wetlands to temperature, precipitation, wetland water depth, and amphibian calling activity, we installed one pressure logger in the deepest spot we could find in each wetland. Soon after thawing conditions allowed, we drove a plastic pipe (anchor pipe) into the sediments at the deepest location and secured another pipe to it that contained one pressure logger (Onset Computer Corporation Model U20-001-04 [Bourne, MA, USA]) suspended approximately 2.5 cm above the sediments. We installed additional individual pressure loggers in the upper part of the logger pipes (in air) at select locations to measure barometric pressure for calibrating the submerged loggers' readings. We measured pressure once per hour and used software supplied by the logger manufacturers to upload and convert data to depth at the end of each season.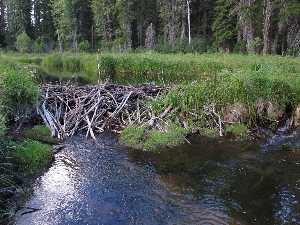 Authors: J C Rowe,; Adam Duarte; J T Peterson; C A Pearl; B McCreary; S Galvan; M J Adams
Date: 2020-05-05 | Outlet: ScienceBase
This dataset contains information from surveys conducted 2010-2018 by USGS as part of a long-term Oregon spotted frog monitoring effort in the central Oregon range. Data consist of site, survey, habitat, and species detection covariates, as well as inter-site distance measurements.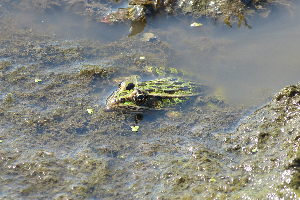 Authors: J E Swanson,; Erin Muths; C L Pierce,; M W Vandever,; K L Smalling
Date: 2018-03-09 | Outlet: US Geological Survey Data Release
Amphibians living in agricultural areas encounter many challenges. Two factors affecting individuals in these landscapes are habitat loss and pesticides. This thesis focuses on amphibians using agricultural wetlands in Iowa, where row crops such as corn and soybeans dominate the landscape. The goal of of the first study was to determine the influences of site characteristics on amphibian presence and success. Occupancy analysis was used to estimate proportion of area occupied by four species as a function of eight covariates hypothesized to affect occupancy: fish abundance, salamander abundance, invertebrate density, vegetative cover, wetland area, water atrazine concentration, surrounding crop land use, and overall wetland health score. We surveyed 27 wetlands in 2015 and 2016. Occupancy analysis results indicate almost all covariates were supported in our model sets although their estimated effects were weak. Direction of predicted effects of covariates on amphibians varied by species and life stage. Results show that wetland site occupancy for species in our study ranged from
0.23
to
0.95
. Although we did not find strong evidence that the environmental factors we measured influenced amphibian occupancy, we provide insight on amphibian use of a modified agricultural landscape. The goal of the second study was to understand where and when frogs are most susceptible to pesticide exposure and how that exposure relates to accumulation. We hypothesized habitat use would influence a frog's exposure to pesticides. We radio tracked 72 Northern Leopard Frogs (Lithobates pipiens) in agricultural wetlands and assessed their survival. We used Passive Sampling Devices (PSDs) to test for differences in pesticide exposure among grassland, wetland, and agricultural habitats. We found that pesticide concentration analyzed from PSDs varied among habitat types (P < 0.01) with concentration greatest in agricultural habitats. Amphibians frequently used wetland habitats early in our study, and transitioned into grassland habitats later in the summer, using agricultural fields rarely. Number and concentration of pesticides were greatest in tissues collected in May, but few pesticides were detected in individuals captured in August (P <
0.01
and P <
0.01
, respectively). Our results indicate risk of pesticide accumulation is highest in aquatic habitats earlier in the year.
Authors: T Preston
Date: 2019
Data release for water quality information from the Goose Lake Study Site, northeastern Montana.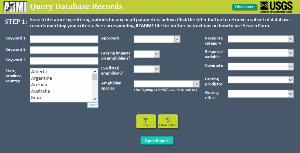 Authors: J C Rowe; C A Pearl; M J Adams; B McCreary
Date: 2020-03-04 | Outlet: Science Base
Livestock grazing is one of the most common land uses in the western United States, where multiple amphibians of conservation concern use habitats that are grazed. Despite the common intersection of grazing and sensitive amphibian species, there are very few reviews of research related to the issue. USGS researchers compiled and summarized literature pertaining to livestock grazing effects on amphibians and their habitats, with an emphasis on wetland-breeding species in the western United States. Users of the annotated bibliography can utilize an integrated search tool with user-defined criteria to query records and output results. This tool aids users in synthesizing research related to a range of specific questions and should assist land managers in evaluating and implementing grazing while maintaining habitat for wetland amphibians.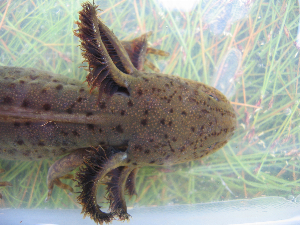 Authors: M J Adams; C A Pearl; B McCreary; S Galvan; J C Rowe; Adam Duarte; J T Peterson
Date: 2019-03-28 | Outlet: ScienceBase
This dataset contains information from surveys conducted 2004-2015 by USGS as part of a long-term amphibian monitoring effort in the Willamette Valley, Oregon. Data consist of site, survey, habitat, and species detection covariates.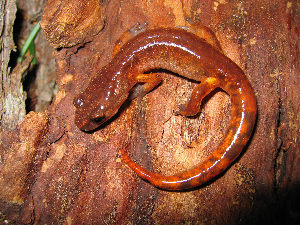 Authors: N D Chelgren; M J Adams; B McCreary; C A Pearl; J C Rowe
Date: 2019-05-21 | Outlet: ScienceBase
Data are the result of fixed-area, time-constrained searches for terrestrial salamanders within and nearby a wildfire-affected area of the Willamette National Forest, OR. The spatial extent of the study was within one kilometer of the border of the Clark fire that burned an area of 2,009 ha in 2003. Site surveys occurred during March and April, 2005. An important feature of the data is that 100m2 sub-plots (nested within plots) were repeatedly searched for terrestrial salamanders independently up to nine times so that variation in the probability of capture could be estimated and accounted for concurrent with estimates of occupancy probability.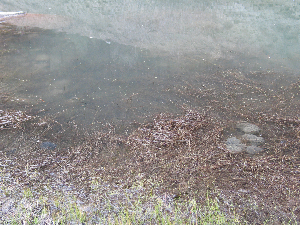 Authors: M J Adams; C A Pearl; B McCreary; S Galvan; J C Rowe
Date: 2018-02-01 | Outlet: ScienceBase
We studied the short-term effects of full and partial livestock grazing exclosures on Columbia Spotted Frog (CSF; Rana luteiventris) populations using a controlled manipulative field experiment with pre- and post-treatment data. This dataset includes vegetation data collected 2002-2010 and 2013 at 94 lakes and ponds in and around the Blue Mountains in eastern Oregon. Data collection followed standardized survey protocols and included annual oviposition surveys and vegetation surveys. These data allowed for quantification of CSF breeding as related to vegetation within and outside of grazing exclosures at each site.
---